Course details
♪ All-you-can-drink for 3 hours ♪ "Special School Set" course with Nepalese drink Shokol Set Course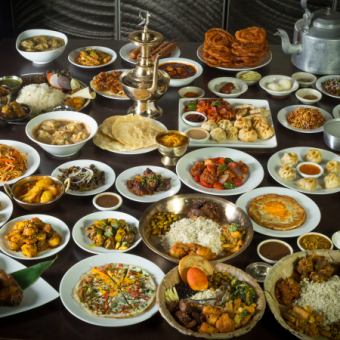 6000 yen
The photograph is an image.
All-you-can-drink available
Reservation deadline

Until 22 o'clock the day prior to the desired shop visit date
Available days for reservation

Monday - Sunday - Public holidays - Holidays
A course with Nepalese beer or Nepalese liquor on Nepalese traditional style "school" course.Nepal school set course which can enjoy Nepalese cuisine in full swing ♪ Plan with an all-you-can-drink all-you-can-e
Course menu
※ 1 person with 2 special drinks
Nepal bottle 1 beer & Nepalese sake (1 shot glass)
【1】 Argan special salad
Aangan Special Salad
【2】 Nepal crisp crackers "Papadu"
Papad
【3】 Snacks from Nepal "Panipuri"
Panipuri
【4】 Stir-frying spicy iron plate of pork "Pork Sekuwa"
Pork Sekuwa
【5】 Spicy fried potatoes "Earl Zilla"
Aalu jira
【6】 Nepalese steamed dumplings "peach"
Momo
【7】 Stir-fried spicy saffron "Pan Graphic Rye"
Pangra Fry
【8】 Chick pea fried and fried egg "Chana underfly"
Chana Anda Fry
【9】 Takari family meal set "Taka reset"
Thakali Set(Mutton or Chicken or Veg)
【10】 Dessert of Nepal
Nepali Dessert
※ drink last order 30 minutes ago
※ It will be 1 plate per 4 people.
※ Because we can change course etc., please do not hesitate to consult us.
All-you-can-drink menu
·beer
· Draft beer, Shandigaph
·Cocktail
· Cassis (Soda, Orange, Grapefruit, Oolong, Grape, Pine ...), Campari (Orange, Grape, Soda, Tonic ...)
·Cocktail
· Peach (Fiz, Oolong, Cooler, Orange), Lychee (Soda, Grapefruit, Oolong) China Blue
·Cocktail
· Screwdriver, Moscow, Bulldog, Gin tonic, Jim Buck, Jin Ricky, Jin Lime
·whiskey
· High Ball, Cork High Ball, Ginger High Ball, Rock, Water, Soda Ceremony, Hot Water Split
· Shochu
· Rock, water splitting, soda cracking, hot water splitting
·sour
· Lemon Sour, Lime Sour, Grapefruit Sour, Oolong High, Green Tea High
·Plum wine
· Rock, water splitting, soda cracking, hot water splitting
·Soft drink
· Oolong tea, green tea, orange juice, grapefruit juice, coca cola, gingeraele
2018/09/26 update